event venues
Akontisma is an ideal place for those who love events and culture. On the hill, many locations of the enchanting settlement inspired by Macedonian and Cappadocian architecture, are ready to host events from Kavala and all of Greece or the world.
The stones from the old mine adjacent to the settlement were used to form an ancient open-air theater. The theater has been open since 1983 and has a capacity of 1,800 seats. The impressive stony tiers and loges, as well as the perfect natural acoustics will impress even the most demanding spectators.

Here summer nights are ideally complemented by a variety of events such as concerts and performances, including the folklore Ilios & Petra (Sun & Stone) festival, which has been organized every summer for decades.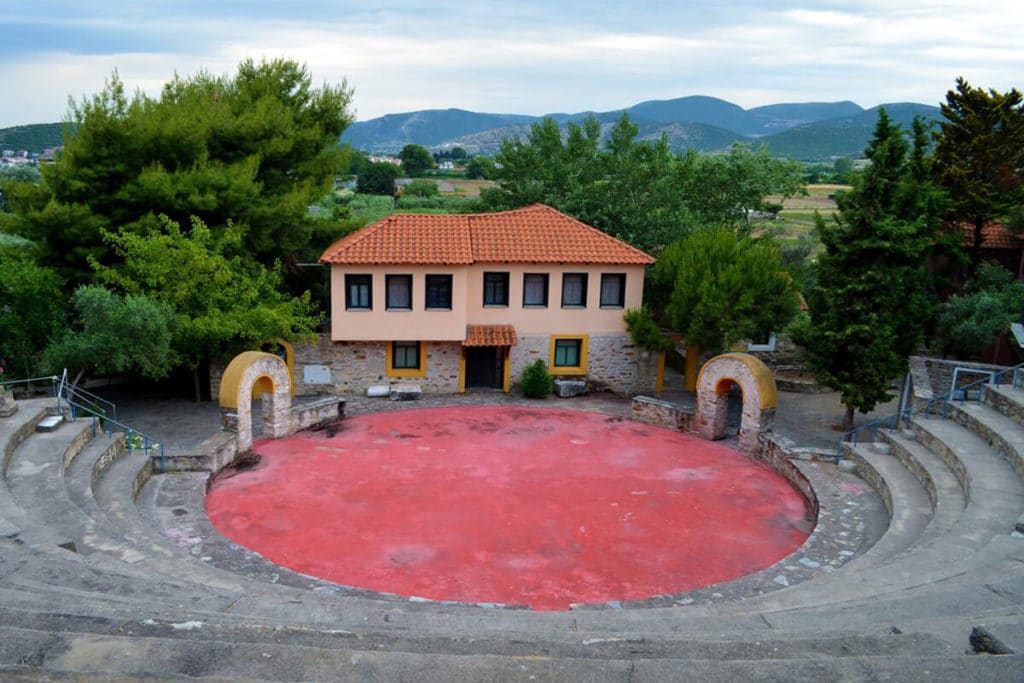 Cultural events also take place at the Aenaon site. Here, in a place full of motion, as its name suggests (from Greek «αέναος» – "perpetual"), one can feel  the passage of time and of the four seasons.

Aenaon consists of a paved plateau with a breathtaking panoramic view. It is an outdoor space with a capacity of 300 people, characterized by the rare harmonious coexistence of the Christian church of the Ascension with the restored Tribune of the Thasians, the first inhabitants of the hill.

It is the starting point of a path that, through an impressive olive grove, leads to the Roman fortress of the Egnatia Odos and the labyrinthine system of tunnels just below it.
The Odeon area of Akontisma, named after the adjoining Odeon of the Muses and the eponymous ancient fountain, can serve as the perfect backdrop for mystic and unconventional events.

This area offers a natural amphitheater stage as well, capable of hosting cultural events of all kinds.
Last but not least, smaller events of all kinds can take place at the central square of the settlement, as well as the KAYA, our cocktail pool-lounge bar, surrounded by the imposing natural landscape ,part of which is the which is the rocky northwestern border of the settlement.